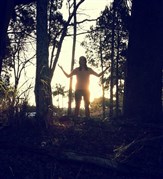 Kate Strachan

Expires
Saturday, 31 October 2015
Fanging for Freedom
I'm training for an event with 25000spins, a non-profit program that matches an
adventure with a good cause.
Beginners and experienced athletes alike are given support in how to train and
fundraise and get to experience an adventure that they wouldn't previously had the
opportunity to enjoy.
In return, I will raise valuable funds that go directly towards helping people in poverty.
Like us on Facebook for Important Event News and Information


Adventist Development and Relief Agency Australia Ltd
ADRA Australia works with people in poverty and distress to create just and positive change through empowering partnerships and responsible action. ADRA delivers sustainable community development and disaster relief programs that benefit communities in Australia, the Pacific, Asia and Africa. These programs include initiatives for providing clean water, food, basic education, health education as well as many others. In recent years, ADRA has supported over 900,000 people in 17 countries. ADRA Australia is fully accredited with the Australian Government and is part of the global ADRA network, with a presence in more than 120 countries.
FUNDOMETER
Target
$1,250
Raised So Far
$1,521
Biggest Supporters:
Anonymous: $717.00
Steven Strachan: $265.00